A DiviPay Study
The State of Employee

Spending

and Trust in Small Businesses in 2021
DiviPay commissioned an independent survey of 326 Australian small businesses to understand the relationship between business owners and their employees around expense purchases and the use of company funds.
The survey also looked into the occurrence of employees making personal or unauthorised expense purchases.
The results show that there is a significant amount of business owners, who don't trust or think their employees are honest with business expenses and many who have even caught them out.
Download the White Paper to see the stats and get state and business size data.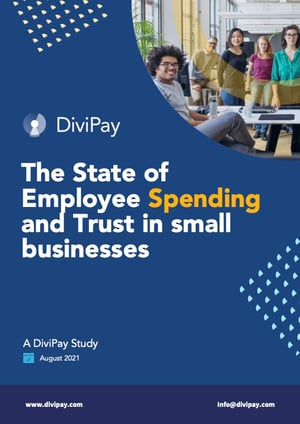 Trusted by Australia's fastest growing businesses

Trusted by Australia's fast growing businesses
"Making business payments and expense reporting a single, auto-populated, low-friction event at the time of purchase is a big step forward for increasing compliance with our card users. With DiviPay I have a central control hub to instantly issue cards, cancel cards or change limits 24x7 which is a game-changer." Damien Williams, Finance Director @ Medipass
"DiviPay solved the highly clunky and inefficient process of getting corporate cards issued for employees. DiviPay is easy to use, has a quick response time for customer service queries and comes with seamless integration with Xero." Jasmine Lee, Chief Financial Officer @ Reinventure
"DiviPay has enabled us to grow in a way that is not possible with traditional credit cards. As a new Company with limited cash, it has allowed us to dynamically assign funds to employees, as required to purchase parts and cover expenses. New starters or contractors can be issued a virtual corporate card in minutes, it is also super easy to re-assign or cut-off funds to suit the operational needs of the business." Simon Zaiko, Director @ JDZ Solar